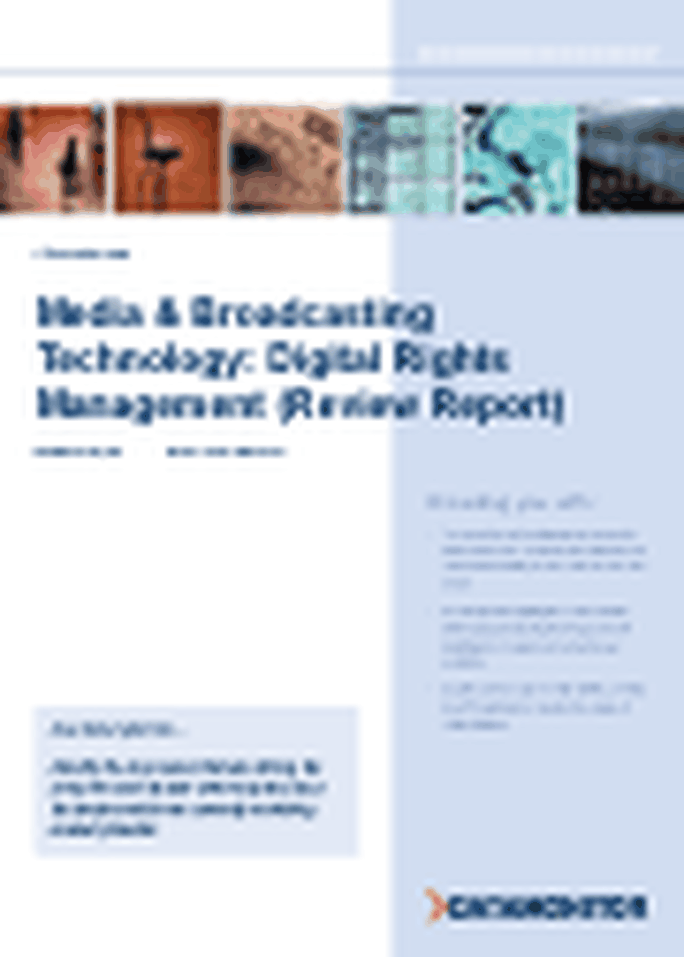 Bild:
Datamonitor: Media & Broadcasting Technology: Digital Rights Management (Review Report)
Die aktuelle Analyse 'Media & Broadcasting Technology: Digital Rights Management' vom britischen Marktforschungsunternehmen Datamonitor gibt einen Überblick über die DRM-Entwicklungen im Medienbereich, mit Schwerpunkt auf Chancen im Mobilmarkt und im Rundfunk.
With an increasing proportion of media content now produced and distributed in digital format, controlling the rights of these assets is becoming increasingly crucial. The review report 'Media & Broadcasting Technology: Digital Rights Management' provides an overview of DRM developments across the media sector, with particular focus on opportunities in the mobile and broadcast arenas.

Scope
This report:

Provides an overview of developments across the DRM sector and considers the direction that the market is likely to take over the next few years.
Highlights developments in the mobile DRM sector, including the impact of both proprietary and open standards based solutions.
Considers the ways in which DRM can help pay-TV operators to extend the scope of their offerings.
Report Highlights
DRM is a vital enabler; without adequate levels of content protection in place, content providers are highly unlikely to release their high-value assets for distribution - and without high-value content being widely available, the digital media sector as a whole will fail to flourish.
Mobile operators are seeking to generate increased revenues from content services to compensate for falling voice revenues and justify high expenditure on 3G licenses and infrastructure. Datamonitor expects DRM to be increasingly incorporated into mobile devices, driven by the need to protect high value content from illegal use and distribution.
The need for content protection in the broadcast sector is moving beyond traditional cable and satellite platforms. Consumers are increasingly demanding greater portability of broadcast content, while the nascent IPTV sector provides significant greenfield opportunities for vendors.
Reasons to Purchase
Identify the key issues that are driving the need for more flexible DRM solutions and the factors which are currently restricting market potential.
Gain an insight into the impact of open standards and identify the factors which are currently hindering the development of the mobile DRM market.
Understand how DRM solutions offer the potential to develop new business models to better meet the demands of consumers and content providers.
Datamonitor is a leading provider of online database and analysis services for key industry sectors. Through Datamonitors proprietary databases and wealth of expertise, clients are provided with unbiased expert analysis and in-depth forecasts for seven industry sectors: Automotive, Consumer Markets, Energy, Financial Services, Pharmaceuticals and Healthcare, Technology, Transport and Logistics.