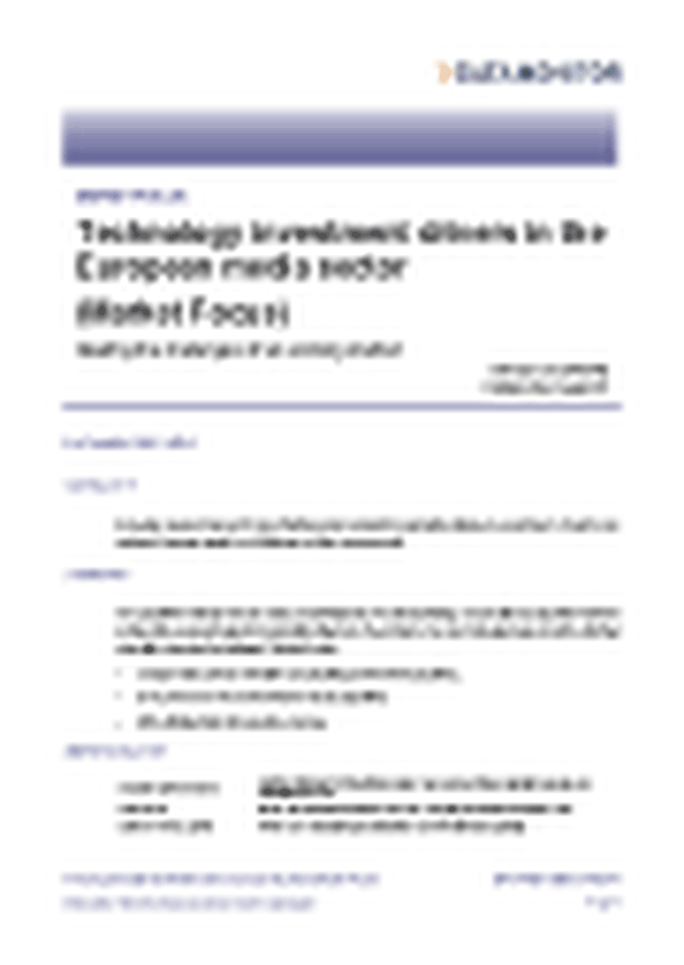 Bild:
Datamonitor: Technology Investment Drivers in the European Media Sector (Market Focus)
Die aktuelle Analyse 'Technology Investment Drivers in the European Media Sector' vom britischen Marktforschungsunternehmen Datamonitor beschreibt die wichtigsten Trends für Investitonen in neue Techniken in den Bereiche Publishing, Rundfunk, Film, Spiele und Musik und beschreibt, wie Medienunternehmen den Markt durch neue Services antreiben.
Consumers increasingly want to obtain their entertainment content anytime, anywhere and with relative ease. This shift is prompting European media firms to invest in new services to leverage content, boost efficiency and remain competitive. Datamonitors brief 'Technology Investment Drivers in the European Media Sector (Market Focus)' considers the key trends that are driving technology investment across the broadcasting, film, gaming, music and publishing sectors.

Scope

Provides an overview of digital media's effect on traditional media consumption habits.
Highlights the rollout of new services across the media sector as media firms aim to remain competitive.
Assesses how media firms' desire to deploy new services is driving M&A activity and consolidation across the sector.
Highlights
Media consumption habits are changing as a result of the emergence of multiple distribution channels and the arrival of non-traditional competitors.
Broadcasters aim to enhance their content offerings and services as telecoms firms move increasingly into media services.
M&A activity further blurs media boundaries across the European media sector, as firms move into non-traditional sectors to expand the scale and scope of their businesses.
Reasons to Purchase
Details the key technological investment drivers across the European media sector.
Outlines the changes to the competitive environment and transforming consumer consumption habits.
Datamonitor is a leading provider of online database and analysis services for key industry sectors. Through Datamonitors proprietary databases and wealth of expertise, clients are provided with unbiased expert analysis and in-depth forecasts for seven industry sectors: Automotive, Consumer Markets, Energy, Financial Services, Pharmaceuticals and Healthcare, Technology, Transport and Logistics.